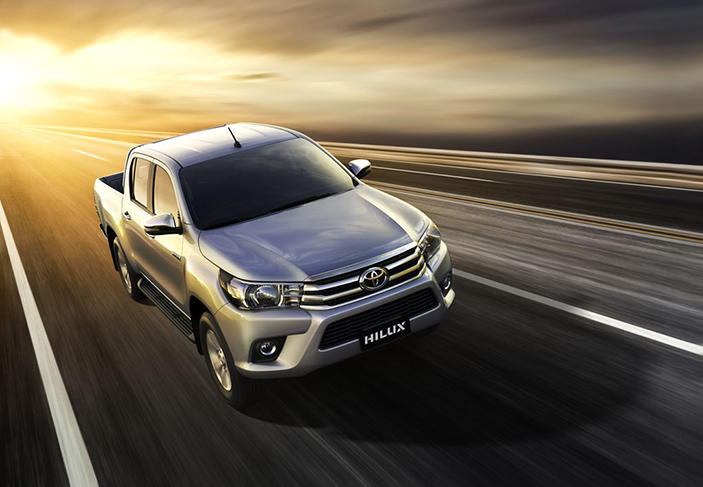 New Hilux. Ready for anything
Toyota has released the toughest Hilux ever - a new-generation range that combines impressive global advances with extensive local development and evaluation designed to conquer the most severe operating conditions in Africa.
Almost every aspect of the eighth-generation Hilux has been strengthened, including a thicker frame, stiffer body, advanced six-speed transmissions, beefed-up suspension and brakes, and expanded off-road ability.
Rough Terrain is the "spiritual home" of the new Hilux due to extensive development and evaluation by Toyota engineers, including more than 1,000,000 Km of testing in a wide variety of conditions across the continents.
Design
The new under-body protection package, fitted to all 4x4 and Hi-Rider models, is larger and thicker to deflect sticks and rocks to protect vital mechanical and fuel-system components. "As a result, we are confident the new Hilux is a big step forward in all aspects of performance, durability and comfort as well as toughness," 
Safety
The new Toyota Hilux has SUV levels of safety technology in addition to its increased mechanical grip and stopping performance achieved through the new suspension and brake package.
All Hilux models have seven airbags - driver, front passenger, driver's knee, front-seat side and side curtain-shield airbags.
Active safety features include vehicle stability control, active traction control, anti-skid brakes with brake assist and electronic brake-force distribution, and trailer sway control.
Comfort
At the same time, the latest Hilux offers SUV-like features including a more compliant ride, quieter cabins and higher levels of comfort and convenience with standard air-conditioning, touch-screen display audios, cruise control, more supportive seats and power-operated windows, mirrors and door locks.
Special offers