Special offer
Land Cruiser Prado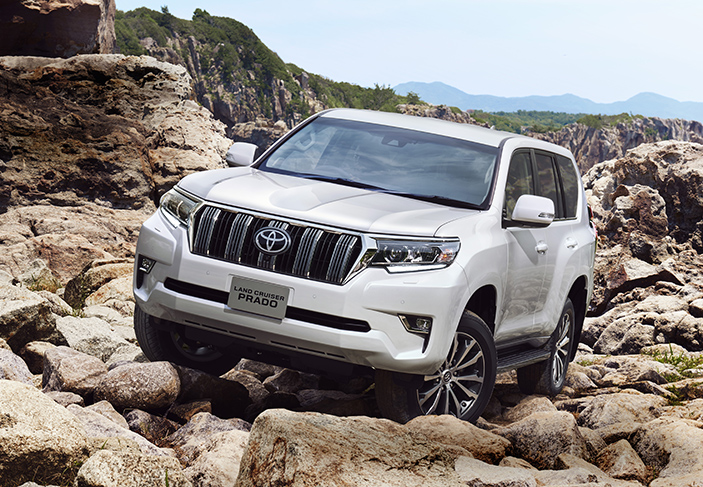 Land Cruiser. Unrivaled strength. Legendary character.
With an off-road heritage spanning more than 65 years, the Land Cruiser remains unique in its ability to combine outstanding quality, durability and reliability with unrivaled off-road performance and ever greater levels of luxury, prestige, and on-road comfort. The new Land Cruiser further enhances its reputation with a new, more modern and robust exterior styling, and a more sophisticated, comfortable and higher quality interior design.
Born an icon. Forever unstoppable.
Ever since the first generation climbed Mount Fuji more than 60 years ago, the Land Cruiser has been unstoppable. It continues to excite customers all over the world with its capability and its determination to get you anywhere and back. Today, the Land Cruiser is just as relentless – with more advanced on- and off -road technology, more safety features and more powerful performance to tackle any terrain.
Comfort through craftsmanship
The new Land Cruiser's high levels of on-board technology hallmark it as a premium 4x4. The unique mix of functionality, craftsmanship and attention to detail ensures the most rewarding journey on any route.
Ad versatile as your ambition.
Whether you're exploring new territory, or negotiating the urban jungle – the Land Cruiser has the spacious cabin and the versatility to match your needs. Choose between a 5- and 7-seater, for a vehicle that adapts to changing conditions and individual wishes. Loading is easy too, thanks to features like the rear glass hatch window that can be operated with one hand.
Ready to conquer the toughest terrain.
From crawling through a river, to descending a rocky track - the Land Cruiser's ability to overcome the roughest off-road terrain and bring you back safely is legendary. No other SUV can offer it's unique combination of on- and off-road performance.
Special offers