Special offer
Land Cruiser 300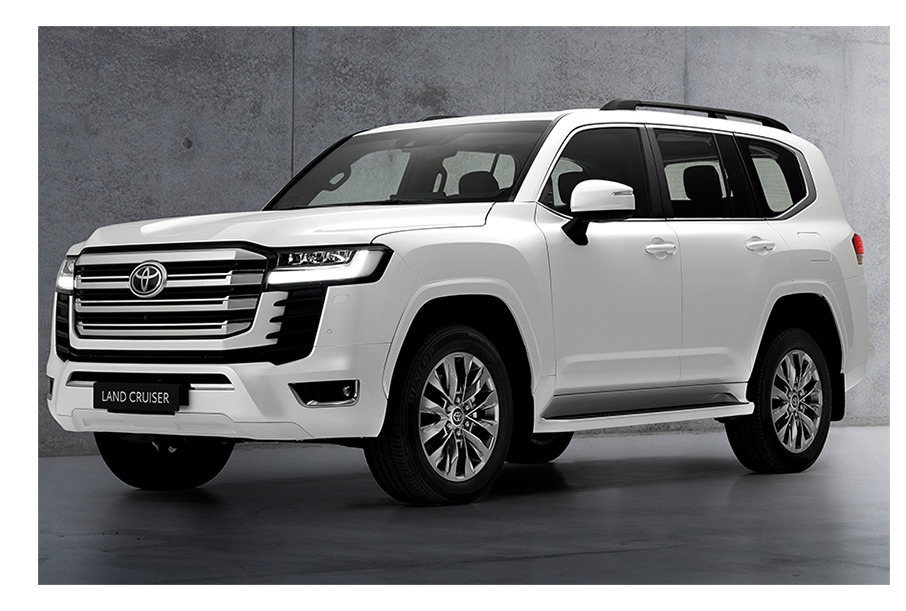 Master New Adventures

Introducing the all-new, more powerful, Land Cruiser 300. Conquer the impossible with three formidable new models to choose from, the GX-R, GR-S, and the ZX. Here to tame the untamable, the Land Cruiser 300 has an all-new design, is born from seven decades of off-roading heritage, and is the enduring Master of Africa.

ADVANCED FUNCTIONALITY

The Land Cruiser 300 was built with enhanced technology that will turn every off-road adventure into an easy, enjoyable driving experience. The 12.3-inch* Display Audio touchscreen infotainment system maximizes the Land Cruiser 300's off-road proficiency with its 3D Multi-Terrain Monitor (MTM)* that incorporates Panoramic View Monitor (PVM)*. For safer passage, images of the vehicle's immediate surroundings, including views of the trail in front, underfloor and rear are displayed on the high-resolution infotainment screen. And with just a turn of a dial, the driver can switch between multiple terrains (auto, dirt, sand, mud; or rock).

*Available on selected models.

CONVENIENCE REDEFINED

Land Cruiser 300 is fitted with several high-tech, next-gen additions within the cabin. Compatible mobile phones can be wirelessly charged*; and the second-row passenger seats are equipped with 11.6-inch high-definition* displays and matching wireless headphones, * all forming part of the Rear Seat Entertainment System*(RSE), the latter of which also incorporates smartphone linkage.

*Available on selected models

OFF-ROADING

The key to the GR-S model's exceptional cross-country dexterity is the fitment of Toyota's Electronic Kinetic Dynamic Suspension System (E-KDSS), through which all four corners of the vehicle are hydraulically interconnected and allows the anti-roll bars to temporarily be automatically disconnected. Integrated as part of the AWD Integrated Management* (AIM), E-KDSS enables longer suspension strokes during extreme cross-axle situations to suppress body roll and increase cabin stability. AIM also incorporates automatic use of Multi-Terrain Select* that enables you to drive over multiple road surfaces.

*Available on selected models.

TOYOTA SAFETY SENSE

The new Land Cruiser 300 has the safety features to give you the confidence to make unforgettable memories on every adventure. Both the GR-S and ZX models are fitted with Toyota's next-generation Safety Sense suite of collision-avoiding interventions. This comprises of: Adaptive (all speed) Cruiser Control, a Pre-crash System that is (brake-synchronized), Lane Keeping System with Steering Vibration and Lane Trace Assist*.

*Available on selected models.

* Toyota Malawi Ltd reserves the right to alter any details of specifications and equipment without notice. No guarantee is given regarding the accuracy of information within this site. Vehicle body and trim colors might differ slightly from the pictures within this site. Please check model availability and full specification details with your Toyota dealer prior to ordering. Neither Toyota Malawi Ltd nor Toyota Dealer network can accept contractual responsibility for your reliance on the information contained within this site.
Special offers