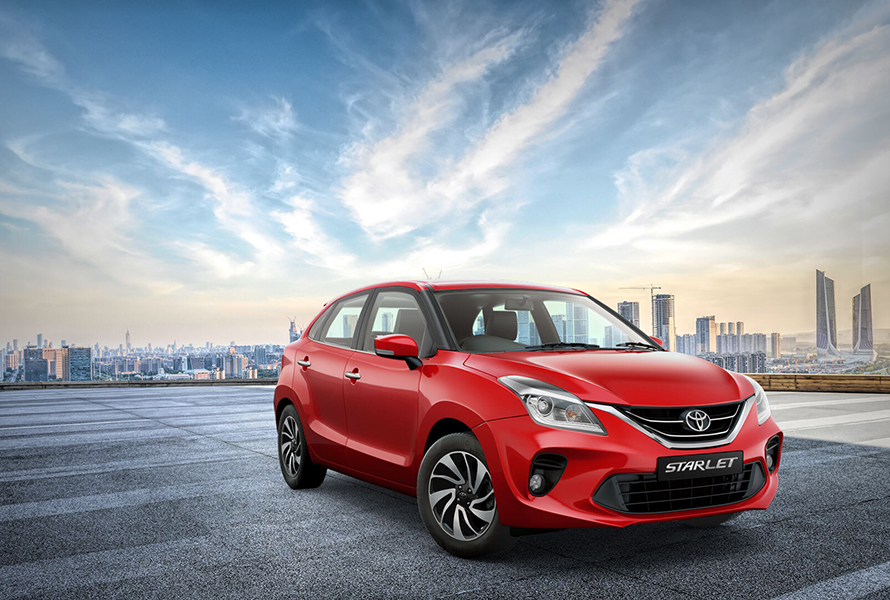 The stars are aligned and ready to shine in the night to light up the darkness.
Toyota Malawi has a new star, it is instinctive and taking over the planet Toyota! It's no other than the "New Toyota Starlet". It has landed on the Malawian soil in a double "S" effect (smooth, secure) and affordable way.
It's reliable with a modern look and enhanced with the latest technologies to give you a wonderful driving experience. The new affordable Toyota Starlet is built to suit all aspects of your life, be it personal or business.
Modern Exterior
The exterior design follows a classic hatchback profile, with a short, downward-sloping nose and rounded-off rear hatch. A v-shaped front grille with centrally-mounted Toyota insignia which are joined by two vertically arranged headlamps with chrome inlay.
The side profile features contour-following upper and lower crease lines which creates a sense of motion. Prominent wheel arches give the Starlet a sure-footed stance. 
Talk of the rear design centres around the large LED tail lamps featuring a red and clear colour scheme. These are joined by a trapezoidal indent in the lower bumper section. The overall result is a compact and striking design.
Interior Design
The Starlet boost of interior layout which prioritizes spaciousness and ergonomics without compromising on flair. The centre hang-down section is neatly grouped with ventilation, infotainment and climate control switch gear. It has the contour lines which creates a feeling of harmony with the exterior design. A chunky three-spoke steering wheel incorporates steering switches, think about such details.
Engine & Performance
Powering the Starlet is a 1.4-litre, with four-cylinder engine. The engine exhibits responsive and reactive characteristics that make light work of the daily commute. Power outputs are 68kW @ 6000 rpm and 130Nm @ 4200 rpm. How awesome is that!
Two transmission choices are on offer, a 5-speed manual and 4-speed automatic, all driving the front wheels, you have the power to choose your preference.
Safety & Security
All Starlet models come well equipped with safety and security equipment which include active electronic aids such as Anti-Lock Braking System (ABS), Electronic Brake Force Distribution (EBD), and Brake Assist (BA).
Special offers