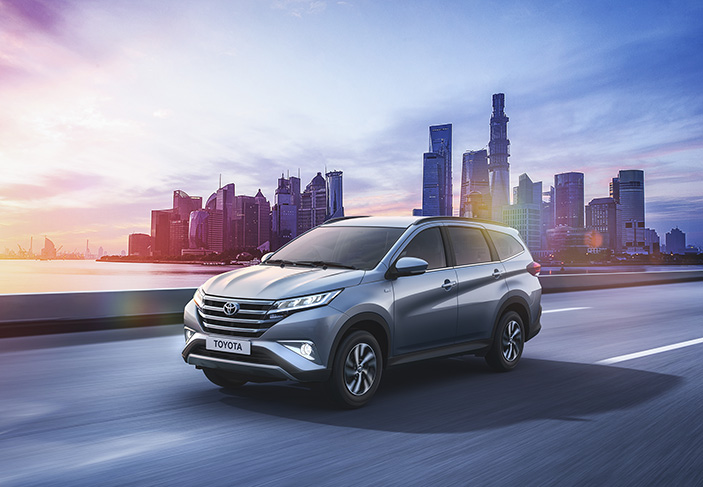 What a Rush!

What does it take to get ahead in life? It starts with the ability to anticipate change and grab new opportunities. On the road, you need a partner that adapts to various environments and always delivers more. A car with versatility, energizing you with the dynamic excitement of self-confidence and security. A car that inspires. That feeling is a Rush. That car is the Rush.
The All New Rush inspires a feeling of "WOW" at every moment. When you see it, when you get into it and when you drive it.


Good Fuel Efficiency and Low Emissions.
Improved 1.5L in-line 4-cylinder petrol engine with Dual Variable Valve Timing-intelligent (VVT-i) provides enough power and good fuel efficiency.
Dual VVT-i is a system that continuously optimizes the timing of intake and exhaust valve operation in accordance with driving conditions to provide a high level of engine performance in every operation area. This technology ensures engine performance as well as contributing to enhanced fuel efficiency and lowered emissions.


Built for adventure with space and comfort in mind.
An urban SUV with front-engine, rear-wheel-drive and 220 mm of ground clearance enhances a solid all-terrain driving performance. Built for adventure with space and comfort in mind.
Created for rough roads, floods and challenging road conditions found only in Africa. We have developed an SUV with ideal all-terrain performance, ride comfort, interior comfort, versatility and most importantly, safety.
The Rush has a front-engine, rear-wheel-drive (FR) layout that enables the large tires and high ground clearance needed for its solid all-terrain performance. It provides powerful traction on gradients and slippery surfaces that increases in proportion to the passengers or cargo loads. Its small minimum turning radius ensures good maneuverability on all types of roads. The highly rigid body, ample suspension stroke and rear stabilizers ensure the stable steering and ride comfort needed to prevent fatigue on long trips.


Keeping your family safe throughout all your adventures.
For maximum safety the all new Toyota Rush is fitted with 6 SRS airbags and vehicle stability control.
Rush has been given an ample array of safety features to ensure driver and passenger peace of mind. Collision safety (passive safety) features include a sturdy body structure, SRS driver and front passenger air bags, SRS side air bags and SRS curtain shield air bags. Vehicle Stability Control (VSC) and Hill-start assist control (HAC) systems are provided as standard vehicle features to help provide safety during routine driving (active safety features).


Space without limits. Imagination without boundaries.
The only 7-seater SUV in its range, with 3 rows of seats that are designed for an active lifestyle.

The all new Rush is a perfect fit for an active lifestyle. The Rush's all-terrain performance provides nimble and powerful responses on rough roads and gradients, with a high degree of maneuverability on narrow roads that makes every day driving easy. A roomy three-row 7-seater SUV in a compact body with ample loading and storage space. A SUV that allows for confident and peace of mind, and which has capabilities of a class above in every aspect. A dynamic SUV with high-end styling.
Special offers